ICT Module -3 Topic - 3
ICT Tools for Enhancing Social Accountability

Crowdsourcing
With new ICT tools, members of civil society may participate in unprecedented ways in the process of analyzing and interpreting (and later utilizing) public data and information. Knowledge is dispersed in society and using ICT-based processes, like crowdsourcing, allows you to have access to it.


One of the most well-known examples of crowdsourcing is the Ushahidi platform. It is a tool to easily crowdsource information using multiple channels, including SMS, email, Twitter, and the web. People send their information via mobile phone, email or social networks to the website to be later placed in a map that could help other people to have a better picture of a given situation (such as elections or natural disasters, among others).

The original Ushahidi website was used to map incidents of violence and peace efforts throughout the country based on reports submitted via the web and mobile phones following the 2007 election in Kenya. The website received more than 45,000 reports flowing from individuals all across Kenya., and was the catalyst for developing an open source platform that could be adapted and used by others around the world. Since it was launched, Ushahidi software was used to create similar sites to track anti-immigrant violence in South Africa, map violence in Eastern Congo, to track pharmacy stocks in several East African countries, and to monitor elections in Mexico. It also has been important in post-disaster cases, such as helping post-earthquake rescue efforts in Haiti and tracking the effects of floods in Pakistan.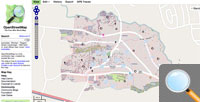 Crowdsourcing and ICTs can also be powerful tools to help communities to gather information about service delivery in their own neighborhood or district. There are examples where residents of a given district work with local authorities, as well as local and international organizations, to gather and later map certain information in their community. One example is the community mapping project in Dar Es Salaam, Tanzania. With facilitation from ground truth, the creators of Map Kibera (check the interactive presentation of module 2 for more information) students from Ardhi University's School of Urban and Regional Planning (SURP) and residents of a neighborhood of Dar Es Salaam used GPS units to collect a wide range of public data points, from school and public toilets to health clinics and trash dumps. Using free and open source software, these volunteers loaded these data onto Open Street Map (OSM), a freely accessible online map. This emerging digital map will provide instrumental support to future community improvement projects.
Last modified: Monday, 25 August 2014, 1:50 PM